About Dr. Shanna Bissonette, DC
Dr. Bissonette brings extensive experience in the field beginning in 1994 opening her own private practice,  In Line Chiropractic in Mammoth Lakes, CA.
A 1988 graduate of University of California, San Diego, she continued her educational pursuits at Western States Chiropractic  College in Portland, Oregon from 1989-1993 as a Doctor of Chiropractic.
She learned the benefits of chiropractic care as a young adult, having sustained a neck injury from a  car accident.  By suffering this injury and the subsequent chiropractic treatments received, she became aware of the benefits of chiropractic care and solidified her desire to beco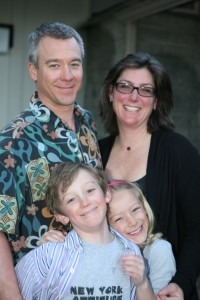 me a chiropractor.  Dr. Bissonette chose chiropractic because she knew first-hand the amazing results that no other health care option offered.  She believed it would be great to help people and treat the cause of the disease, not just mask the symptoms.
Dr. Bissonette has been married since 1997 and is grateful that she crossed paths with her husband Greg.  Together, they have two wonderful children, Tanner and Eva.  With her family, she enjoys the outdoor life that the Mammoth Lakes area brings.
When not helping her patients achieve optimal health, she may be found skiing on Mammoth Mountain or cross country skiing trails in the Winter.  In the non-winter months, she enjoys hiking, road biking, and mountain biking. Or, you may find her at any of the local school sites as she is very dedicated to education and the public school system in Mammoth Lakes.
The Bissonette family is active in their community and in health.  Their foundation for wellness involves taking care of their spine, joints, and the nervous system with chiropractic.
Qualification
Education

University of California, San Diego; B.A. Psychology-1988
Western States Chiropractic College; Doctor of Chiropractic-1993

License

California, License # DC 23101
Dr. Shanna Bissonette, DC, is a chiropractor in Mammoth Lakes and has a satellite office in Bishop. She treats patients with acute and chronic pain presentations, headaches, neck and lower back pain regularly.  Her healthcare approach is to focus on the musculoskeletal and nervous system and the effects of these disorders on general health. 

Shanna Bissonette's Practice has been recognized as one of the top Mammoth Lakes Chiropractic practices.
Verified by
Opencare.com